August 8, 2016
"Two-implant Overdentures" are an affordable option that combines the stability of implants with the economical costs of dentures
Do you know a denture-wearer who has trouble speaking, eating or achieving comfort and stability with either their upper or lower dentures? Do you know someone who avoids social situations out of embarrassment, and who thinks loose dentures are just an inevitable — and untreatable — part of growing old? Is there someone you know who hasn't considered implants because they think they are unaffordable or more appropriate for a "younger" person?
If the person you're thinking of is you or someone you know, we have two important facts to share with you: first, you are not alone; and second, dentures — or a full set of dental implants for that matter — aren't your only options to treat complete or partial tooth loss. There are new solutions to this old problem.
A Bigger Problem Than You May Think
Despite enormous advances in modern dentistry, partial or complete edentulism (the loss of teeth) continues to be a major public health problem. According to the World Health Organization, edentulism is defined as a physical impairment (because important body parts have been lost), a disability (because it limits people in performing at least two essential tasks of life — speaking and eating) and a handicap (because significant changes are needed to compensate for such deficiencies). This impairment has all the characteristics of a chronic disease — it doesn't change or abate, is incurable and requires specific management strategies to overcome its disruptive effects.
For well over a century, complete dentures have been the traditional standard of care for edentulism with its focus on replacing lost tissues (teeth, bone and gum tissues), though not necessarily function. Studies indicate that most people are more satisfied with their upper (maxillary) denture as compared to the lower (mandibular) one. And at least half of all lower denture wearers will not be satisfied with their retention (stability) or comfort.
It is important to understand why this occurs and what happens when teeth are lost. It's actually all about bone. When teeth are lost the supporting bone of the tooth undergoes remodeling (reshaping) for the first several weeks as part of the normal wound-healing process. However, this continuing process will lead to a significant loss in the shape and height of the remaining bone (known as resorption), so that dentures fitted soon after tooth loss quite rapidly become loose. The amount of bone loss is four times greater in the bottom jaw than the upper and most rapid during the first year. It is this basic biology that explains why dentures become looser over time. Lower dentures are much more difficult to wear with confidence than upper dentures. While the bone support is critical, the tongue is a powerful muscle and easily can displace a lower denture whereas the upper denture has more retention due to the large surface area and suction effect of the palate.
The Use of Denture Adhesives
Many people decide to address this problem themselves with the use of dental adhesives or creams. Not only is there an enormous long-term financial cost to this approach, but it also may not be healthy. There is some preliminary information that questions the safety of excessive use of dental adhesives because of the ingestion of zinc (a major ingredient in most adhesives) and its possible association with neurological disorders. Although this possibility exists, it is somewhat unclear and much more research will be needed on this topic. If you need excessive amounts of adhesives to stabilize your dentures, please see your dentist and discuss your options just to be safe.
In addition, when comparing patients with and without teeth, it has been shown that edentulous people generally have difficulty chewing foods tough in texture and may even modify their diets in unhealthy ways by eating less vegetables or protein, instead eating foods with higher fat content that are easier to chew. Statistically, edentulous people are at a nutritional disadvantage as compared to those with natural teeth.
It's All About Improved Quality of Life
Edentulism can negatively impact a patient's overall quality of life. Assessing quality of life is complex — its attributes include adequate functional and psychological health, life satisfaction and self-esteem. Edentulous patients with dentures, particularly those who have adapted to the treatment poorly, can encounter severe psychological and social consequences.
The original goal of implant treatment was to help patients avoid dentures altogether by treating their impairment with a non-removable or "fixed" prosthesis (tooth replacement device) supported by dental implants. Dental implants replace the root parts of teeth that are anchored in the bone, below gum level, allowing attachment of the crown portions of teeth — the visible part of teeth you can see. And while this approach has helped many people, not all patients are candidates for this treatment. Many times it does not address all the deficiencies caused by tooth loss, or satisfy cosmetic needs; and for some, it is economically unrealistic.
Fortunately, there is another option to dentures or complete implants — the lower jaw two-implant overdenture (an implant retained denture). In a sense, it is a combination of both a denture and dental implants. Two dental implants, strategically placed, instead of the four or more needed to support a fixed bridge are sufficient to support a "traditional" lower denture. The denture is modified to fit on this new "platform" and placed over the two implants — hence the term "overdenture."
A New Standard of Care — Two Implants will change Everything!
The two-implant overdenture for the lower jaw is a far simpler and equally effective solution. In fact, in the original Toronto Study (when the treatment was introduced to North America), the complaints of many patients seeking implant treatment were solved during the initial healing phase as their lower denture — fitted or relined over the implants — provided them with an increase in retention, stability and comfort.
Studies over the past decade have continued to demonstrate the enormous benefits of lower jaw overdenture treatment. Results have led to the development of what is called the McGill Consensus Statement on Overdentures (May 2002) which states "As a minimal treatment objective: the mandibular (lower jaw) two-implant overdenture (as opposed to a conventional denture) should be considered as a first choice standard of care for the edentulous patient."
[caption id="attachment_830" align="alignleft" width="260"]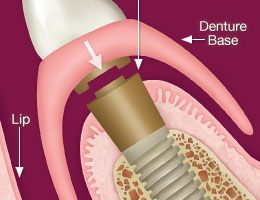 A cross-section illustration showing how the denture attaches to the implants.[/caption]
What is the science supporting this new minimal treatment objective? When one examines the impact of this treatment on edentulism, the results can only be defined as remarkable! Perhaps the most important consideration is that implants will significantly reduce the destructive resorptive bone-loss process — by about 75 percent less in the areas the implants are placed as compared to the use of dentures without implant treatment.
Since the preservation of remaining bone structure is a major cornerstone of modern dentistry, the prevention of further bone loss is a key element in the success of overdenture treatment. Also, since most of the bone loss occurs within the first year after tooth loss, it is most ideal if implants are placed during the first year after tooth loss rather than waiting until later. Thus, the utilization of implants to preserve bone is in and of itself a sufficient rationale to recommend this treatment.
While implant overdentures improve mastication (chewing), does this result in improved nutrition? When comparing the lower two-implant overdenture to conventional dentures researchers determined that altered eating habits are reflected in a comparison of blood parameters. They showed that there were significant increases in concentrations of serum albumen, hemoglobin, B12 and carotene in the lower two-implant overdenture group and no changes in the conventional denture patients. This and other clinical data suggest that providing edentulous patients with one of the least complicated forms of implant dentistry gives patients the opportunity to modify their diets and improve nutrition, which may impact their general health.
Additionally, other evidence suggests that quality of life ratings for oral health are higher for individuals who receive two-implant overdentures than for those with new conventional dentures. No more loose dentures or embarrassing moments in public trying to eat or speak. Patients report an improved self-perception of facial attractiveness. This is of considerable importance, indicating that this simple implant rehabilitation may actually restore a patient's quality of life.
So, you may be asking am I a candidate for this treatment? Generally, if a person is healthy enough to undergo a tooth extraction, then they are also a candidate for the two-implant overdenture treatment. The entire surgical phase can often be completed in one visit, although careful assessment and pre-planning are necessary pre-requisites.
Potential candidates include the dissatisfied denture patient suffering from discomfort and lack of retention of their lower denture, as well as partially edentulous patients with severely compromised teeth that cannot successfully support a prosthesis whether fixed or removable. Research has shown that neither increasing age nor osteoporosis is a barrier to successful healing or integration of implants.
Can this simple treatment be applied to my upper denture? NOT EXACTLY. Upper implant overdentures have different needs and requirements for success and predictability when compared to the lower implant overdenture. Based on differences in bone volume, density and other anatomic factors, preliminary evidence suggests that at least four, and in some cases as many as six implants are needed to retain an upper (maxillary) implant overdenture. The upper two-implant overdenture should not be considered a standard procedure at this time — more research is needed. So, the case selection is different and more difficult for the upper jaw — it is more costly and comparatively more complex. Please consult your dentist if you are considering an upper implant overdenture.
In Conclusion
The lower two-implant overdenture represents a simple, effective and predictable solution to the problem of edentulism. Since the treatment only requires two implants for most people to restore an entire jaw, it is within the financial reach of many so afflicted people. It results in a remarkable improvement in oral comfort and a significantly improved ability to chew most foods, and consequently a person's nutritional status. It eliminates expensive denture creams and adhesives along with their potential medical side effects.
Most importantly, studies indicate a consistently high level of patient satisfaction for the two-implant overdenture when compared to the conventional denture, and a general improvement in quality of life. This represents a major change for the dental profession and the public in the management of edentulous patients, suggesting that the lower two-implant overdenture may be considered the more appropriate starting point over regular dentures. If your dentist does not recommend this treatment for you, then you may want to ask about it. This simple treatment can profoundly change someone's life for the better — maybe yours or someone you know!
deardoctor.com
RELATED  Dental Implants: What You Need to Know Before You Go 
Back to Press Center