Mini Implants at Gorbatov Dentistry: Revolutionize Your Smile
Mini Implants are more than a state-of-the-art dental innovation; they represent a profound shift in the field of dental implantology. At Gorbatov Dentistry, we offer a seamless, pain-free, and efficient way to stabilize full or partial dentures, transforming the way you enjoy life's pleasures.
Mini Dental Implants (MDI) to Keep Dentures Stable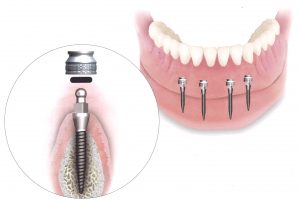 If your loose denture is limiting your life by causing you to:
Miss out on life's simple pleasures,
Miss eating your favorite foods,
Be hesitant to laugh, smile, or speak in public,
Then it's time to take control with the IMTEC Denture Stabilization System!
Imagine This!
Visit our world-class dental office on Ocean Drive, oceanfront in Hollywood, for a morning appointment, undergo a procedure that takes less than two hours, and then relish your favorite lunch. Experience a newfound comfort in eating, engage in pleasant conversations, laugh and speak with unshakeable confidence. Feel the secure, solid foundation for your dentures at a surprisingly affordable price.
How do mini implants broaden my options?
Dental implant therapy has emerged as one of the most substantial advances in dentistry in the past quarter-century. Hundreds of thousands of grateful patients have witnessed an immediate improvement in their quality of life through the assurance of long-term denture stability. Several implant types and restorations are available, and the best option depends on the patient's unique needs. Dr. Dmitry Gorbatov, with over 30 years of experience in Cosmetic Dentistry and Dental Implantology, will discuss the ideal solution tailored for you.
IMTEC, a renowned 3M Company, revolutionized the dental world with its minimally invasive implants for denture stabilization. These small-diameter implants enable dentists to expand the range of treatable patients. The MDI Denture Stabilization System is designed to provide robust denture stability for those patients who require a gentler approach or an affordable alternative to traditional implant treatment.
What is the MDI Denture Stabilization System?
The MDI System consists of a miniature titanium alloy implant, resembling the root of a tooth, and a retaining fixture that is embedded into the base of your denture. With a ball-shaped head on the implant and a socket-like retaining fixture, the system securely snaps and holds the denture in place. It permits micro-mobility while enduring natural lifting forces.
How are MDI Mini Implants placed?
At our oceanfront office in Hollywood, near Hallandale Beach and Sunny Isles Beach, placement of the implants is carried out swiftly and comfortably with local anesthesia. Using precise, minimally invasive surgical techniques, the MDI implants are positioned into the jawbone, providing a robust foundation for securing your dentures. The procedure doesn't require an extended healing period, meaning your dentures can be stabilized on the same day.
What will my first day be like?
After MDI placement, leave the denture in place for the initial 48 hours. Mild discomfort is normal but is managed with prescribed pain medication. Enjoy the security of your denture, eat your preferred meals, and follow our customized care recommendations. Your well-being and appearance are our top priorities.
How do I place and remove my dentures?
Placing and removing the denture is a breeze with the MDI system. Simply follow the guidelines we provide, and don't hesitate to seek assistance from a family member if needed. Your comfort and ease are essential to us, and we're always here to support you.
What about care and maintenance?
Proper care and maintenance of your mini implants are vital for their longevity and efficiency. Brush and clean the ball of the implants like your natural teeth. Utilize the specially designed ACCESS™ Toothbrush for optimum cleaning. Ultrasonic cleaners, Water-Pic, and gentle cleansers are your tools for preserving the pristine condition of your implants.
If the denture doesn't remain firmly in place or you have any concerns, please reach out to us at Gorbatov Dentistry. Together with our professional team, Dr. Gorbatov cherishes and cares deeply for every patient, guiding you towards a radiant and confident smile. Experience the transformative power of mini implants and redefine your dental health and aesthetic at our upscale dental office.
Back to Dental Implants