Soft Tissue Grafting: A Comprehensive Approach to Gum Health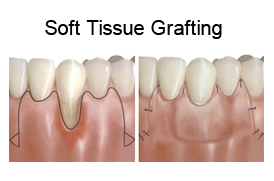 Located on Ocean Drive, oceanfront in Hollywood, Gorbatov Dentistry is at the forefront of providing world-class dental solutions, including soft tissue grafting, a specialized procedure often required to combat gum recession. As part of our upscale dental office, our team, led by Dr. Dmitry Gorbatov, is committed to enhancing gum health through personalized treatments and advanced methodologies.
Gum recession is a common dental issue, and its leading causes can include periodontal disease, trauma, aging, over brushing, and poor tooth positioning. In severe cases, gum recession can lead to tooth-root exposure, causing significant discomfort and altering the aesthetic appearance of the smile. Soft tissue grafting aims to cover the exposed root or thicken existing gum tissue to prevent further tissue loss.
Types of Soft Tissue Grafts
At our clinic, we offer three primary types of soft tissue grafts to cater to individual needs:
Free gingival graft – Ideal for thickening existing tissue, this procedure involves removing a strip of tissue from the roof of the mouth and stitching it to the grafting site to promote natural growth.
Connective tissue graft – This method is most commonly used for treating root exposure and larger areas. Subepithelial connective tissue is removed from a small flap in the mouth and sutured to the grafting site, remedying the problem effectively.
Pedicle graft – Achieving excellent results, this graft "shares" soft tissue between the affected site and adjacent gum. A flap of tissue is partially cut away and moved sideways to cover the root. The inclusion of blood vessels left in place ensures optimal healing.
Why Choose Soft Tissue Grafting?
Soft tissue grafting is a transformative procedure with multiple benefits:
Increased comfort – By covering exposed roots, soft tissue grafting decreases sensitivity, restoring comfort and health to the gum area.
Improved aesthetics – This procedure can augment gums and make the smile appear more symmetrical, eliminating a "toothy" appearance.
Enhanced gum health – Soft tissue grafting, when combined with deep cleaning, halts tissue and bone loss, protecting exposed roots from further complications.
The Soft Tissue Grafting Procedure at Gorbatov Dentistry
With over 30 years of experience in Cosmetic Dentistry and Dental Implantology, Dr. Dmitry Gorbatov has perfected the soft tissue grafting treatment. The process begins with a deep cleaning both above and below the gum line to clear the teeth and roots of calculus (tartar). The grafting procedure itself is usually performed under local anesthetic, depending on the size of the grafting areas.
A small incision is made at the recipient site to create a pocket. A split thickness incision is made in this pocket, and the donor tissue is placed between the two sections. Platelet rich growth factors may be applied to stimulate natural tissue growth and promote good healing, along with tissue-stimulating proteins to encourage quicker tissue growth. The wound site is then sutured to prevent shifting, and surgical material is placed to protect the sensitive area. Gum uniformity and substantial healing typically occur within the first six weeks following the procedure.
As we cherish and care deeply for every patient, we ensure that this procedure is carried out with precision, personalized care, and a gentle touch that reflects our commitment to helping you radiate confidence through enhanced wellbeing and appearance.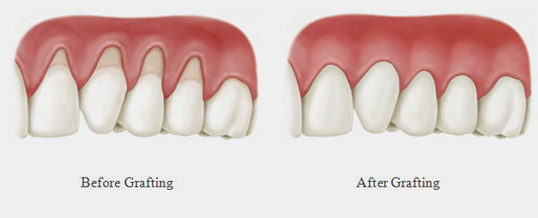 With Gorbatov Dentistry's upscale and sophisticated approach, soft tissue grafting becomes more than a medical procedure; it's an experience in dental excellence. If you're experiencing gum recession and wish to explore our soft tissue grafting options, kindly reach out to our clinic, neighboring Hallandale Beach and Sunny Isles Beach. Your path to improved gum health starts with us.
Back to Periodontal Treatment