Periodontal Surgery: A Considered Approach
Periodontal Surgery - Yes? No? Perhaps
When it comes to your gums, the signs of trouble can be subtle yet alarming. Whether it's a troubling sensation, bleeding, soreness, loose teeth, or bad breath, these could all be indicators of periodontal disease. It could be something you've observed, or perhaps it's a concern raised during one of your routine hygiene and examination visits at our dental office. Whatever the scenario, identifying the issue as "periodontal disease" is only the beginning. The subsequent decision-making process can be complex, requiring careful evaluation and potential treatment.
Periodontal care comes in many forms, from soft tissue curettage to intricate cleaning of the sub-gum root surfaces, known as "root planing." Other procedures may include bite adjustment or the insertion of antibiotics directly into the pockets caused by periodontal defects. For more modest cases, these measures, along with good home care, a balanced diet, and regular, frequent hygiene services, may suffice. But for more advanced disease, when substantial bone loss and deep pockets are present, surgery may be recommended as a viable option. The question then becomes: Should you opt for surgery?
Surgery or No Surgery?
This question represents a significant dilemma. The trend in medicine is generally moving away from purely surgical solutions, periodontal surgeries included. Emerging research and advancements in technology are prompting a reevaluation of the value of many common surgeries. Some studies even suggest that the side effects of periodontal surgery may sometimes outweigh the benefits of the procedure itself. With insurance often covering these procedures, the implications are profound.
However, it's essential to recognize that not all patients are ready to abandon the surgical option when faced with alternatives. Non-surgical approaches to controlling periodontal disease may require lifestyle and habit changes that some individuals find difficult to maintain. The non-surgical path demands dedication to a lifetime of rigorous home care and frequent evaluation and hygiene visits. From our experience at Gorbatov Dentistry, only a minority of individuals find the will to adhere to these demanding, self-help programs necessary to manage the disease without surgery.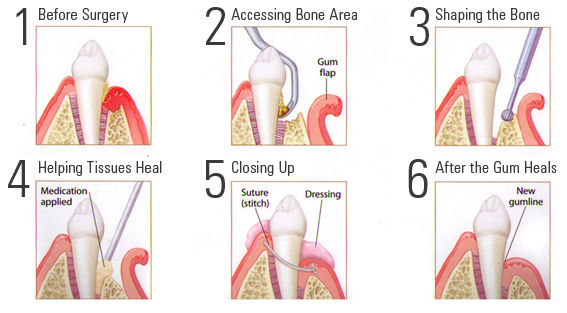 Periodontal Surgery can swiftly create a healthy environment. Of course, this environment needs support, but it can be adequately maintained by someone with ordinary motivation and skills. We understand that the decision to undergo surgery or opt for non-surgical alternatives is deeply personal, dependent on your lifestyle, habits, and motivation.
Know Yourself
If you find yourself diagnosed with periodontal disease, the choice between surgical and non-surgical alternatives is yours to make. Knowing yourself, your habits, and your preferences will guide your decision. Can you commit to a lifelong, challenging regimen, or would a direct solution like surgery align better with your needs? As your dental care provider, our role is to offer guidance and expertise. Dr. Dmitry Gorbatov, with over 30 years of experience in Cosmetic Dentistry and Dental Implantology, and our professional team are here to assist you in making the best decision for your unique situation. Ultimately, the choice is yours.
Our oceanfront office in Hollywood, neighboring Hallandale Beach and Sunny Isles Beach, offers world-class dental services tailored to your needs. We are committed to ensuring a comfortable environment and meticulous attention to every patient. If you'd like to discuss your options or schedule a consultation, please contact us. Allow us to help you radiate confidence through our upscale, world-class dental care, focused on enhancing your wellbeing and appearance.
Back to Periodontal Treatment