Bone Grafting and Closed Sinus Lift at Gorbatov Dentistry: A Comprehensive Solution
Bone Grafting and Closed Sinus Lift – a safe and predictable way to rebuild and strengthen the bone for a superior foundation of support for your implant or denture at our world-class dental office.
What Is It?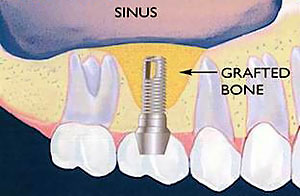 A sinus lift is a specialized surgical procedure that enhances the bone structure of your upper jaw, particularly in the molar and premolar region. Often referred to as sinus augmentation, this procedure involves adding bone between your jaw and the maxillary sinuses. To make room for the bone, the sinus membrane is carefully "lifted." Dr. Dmitry Gorbatov, with over 30 years of experience, ensures a seamless procedure that meets the highest global standards.
What It's Used For
A sinus lift serves various critical functions, particularly when dental implants are the treatment of choice. The reasons might include:
Insufficient bone in the upper jaw, mainly affecting the placement of implants for back teeth or molars.
Bone loss due to periodontal (gum) disease.
Long-term tooth loss, leading to the bone being resorbed.
Proximity of the maxillary sinus to the upper jaw, hindering the implant placement.
Sinus lifts have become increasingly popular with the rise in dental implant procedures over the past 15 years.
Preparation
Preparation for a sinus lift involves choosing the type of bone used, which may be autogenous (from your own body), allogeneic (from a cadaver), or xenograft (from cow bone). X-rays and possibly a CT scan will be needed to assess the existing bone and sinus health.
If seasonal allergies are a concern, it's advised to schedule the procedure when they are inactive.
How It's Done
The procedure is carried out with meticulous care by opening a small window in the bone and gently pushing the sinus membrane up and away from the jaw. Granules of bone-graft material are packed into the created space, followed by closing the tissue with stitches. The implants are placed after 4 to 9 months, allowing sufficient time for integration.
Follow-Up
Post-procedure, the specialist at our oceanfront office on Ocean Drive in Hollywood will monitor the healing process through scheduled visits. Patients are guided on care routines, including medications, mouthwash, and advice against forceful sneezing or nose-blowing. The use of advanced techniques like growth factors and platelet-rich plasma may also be implemented to enhance bone hardening.
Risks
The process is generally safe, with minimal risks such as sinus membrane tearing. If it occurs, it is appropriately handled, and the procedure can be redone after healing. Other risks might include infection or failure in the integration of the bony graft material, both of which are rare and manageable.
When To Call a Professional
After a sinus lift at our upscale dental office, communication with your surgeon is vital if:
Swelling or pain increases instead of subsiding.
Bleeding continues past the expected period.
Persistent bright red bleeding occurs.
You suspect the bony material has been dislodged.
Unremitting pain or fever develops.
If you are seeking a safe and effective solution to enhance your smile or restore your dental health, contact Dr. Dmitry Gorbatov at Gorbatov Dentistry, a renowned dental office that embodies excellence in Cosmetic Dentistry and Dental Implantology. Experience transformative dental care and radiate confidence with your enhanced wellbeing and appearance.
Back to Dental Implants