Root Canal Treatment – Revitalize Your Smile with Advanced Technology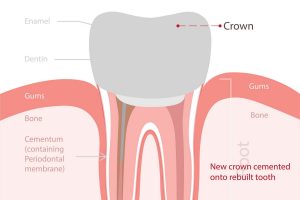 Root Canal Treatment – safe and predictable way to save your teeth by utilizing New Treatment Technique WAVE-ONE GOLD System.
In today's advanced dental landscape, root canal treatment stands as a beacon of hope for those striving to preserve and maintain their natural teeth. At Gorbatov Dentistry, we recognize the importance of offering an enhanced and patient-centered approach to endodontic care, employing cutting-edge technology and methods like the WAVE-ONE GOLD System.
Root canal, or endodontic treatment, has saved millions of teeth each year, allowing patients to retain their natural appearance, functionality, and comfort. Through this treatment, we address the pulp of the tooth, located beneath the enamel and dentin, responsible for the development and nourishment of the tooth. Learn more about root canal treatment and how it can relieve your tooth pain and save your smile.
While traditional views of root canal therapy may be associated with discomfort, the modern techniques practiced at our luxurious oceanfront office on Ocean Drive ensure a smooth and comfortable experience. Dr. Dmitry Gorbatov, a renowned dental expert, employs precise and gentle methods that enable patients to return to their daily lives with minimal inconvenience.
Benefits of Root Canal Treatment at Gorbatov Dentistry
Saving the Natural Tooth: Root canal treatment is a dedicated effort to preserve the natural tooth structure, avoiding the need for extractions or artificial replacements.
Efficient Chewing: By addressing the underlying issues, the treatment restores the tooth's natural ability to chew, enhancing the overall eating experience.
Normal Biting Force and Sensation: With the integrity of the tooth restored, patients can enjoy their normal biting force and maintain the natural sensation in their mouths.
Natural Appearance: The root canal treatment is designed to maintain the visual aesthetics of the tooth, ensuring that your smile continues to radiate beauty and confidence.
Protects Other Teeth from Excessive Wear or Strain: By preserving the affected tooth, the treatment plays a crucial role in maintaining the overall balance and health of the surrounding teeth.
If you're struggling with tooth pain or concerned about the health of your teeth, we invite you to explore the possibilities at Gorbatov Dentistry. Our specialized root canal treatment, marked by excellence and patient satisfaction, is here to transform your dental experience. Contact us today and embrace a journey towards a revitalized and radiant smile.
Back to Endodontic Treatment