Custom Fit Dentures at Gorbatov Dentistry: Full or Partials
Custom fit Dentures (Full or Partials) at Gorbatov Dentistry – Restoring missing teeth with natural-looking, high-quality, removable dentures, empowering you to smile with absolute confidence.
At our oceanfront office located on Ocean Drive in Hollywood, close to Hallandale Beach and Sunny Isles Beach, we understand the value of a beautiful smile. Dentures are more than a solution to missing teeth; they're an investment in your self-esteem and overall well-being. Whether you've lost teeth due to gum disease, tooth decay, or injury, replacing them with premium dentures can enhance both your appearance and health.
Dentures offer more than functionality; they can rejuvenate your facial appearance. Losing all of your teeth can lead to sagging facial muscles, which may age your appearance. Our bespoke dentures are crafted to resemble your natural teeth, ensuring minimal change to your appearance and potentially improving your smile.
Explore the Types of Dentures We Offer:
Conventional: A full removable denture, crafted and placed in your mouth after the remaining teeth are removed and tissues have healed, which may take several months.
Immediate: Inserted on the same day that the remaining teeth are removed, allowing you to retain a full smile during the healing process. Adjustments may be required after your jaw heals.
Overdenture: An innovative solution that fits over a small number of remaining natural teeth or implants, providing stability and support for the denture. This process is handled with utmost care by Dr. Dmitry Gorbatov, with over 30 years of experience in Dental Implantology and Cosmetic Dentistry.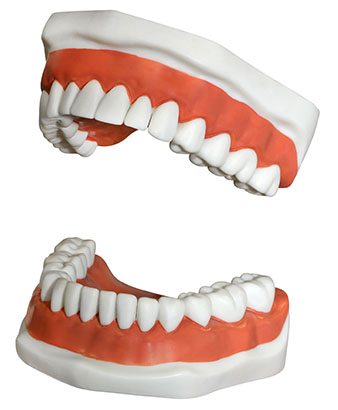 Adapting to new dentures may take a few weeks, but our professional team will assist you every step of the way. Minor irritation or an increase in saliva flow are common but temporary issues that will subside as you become accustomed to your new dentures.
Essential Care for Your High-Quality Dentures:
Rinse and brush your dentures daily using a soft bristle toothbrush and non-abrasive cleanser to prevent staining and scratching.
Thoroughly clean your gums, cheeks, roof of your mouth, and tongue to reduce oral irritation and bad breath.
Store your dentures in water when not in use to prevent warping.
If you use adhesives, follow instructions carefully and consult your dentist for recommended products.
Your journey to a perfect smile doesn't end with obtaining dentures. Regular dental checkups are essential to ensure ongoing fit and comfort. Dr. Gorbatov's reputation for global excellence extends to providing exceptional care and maintenance for your dentures.
Should you have any questions about your dentures, or if they require adjustments or repairs, don't hesitate to contact our world-class dental office. At Gorbatov Dentistry we're committed to ensuring that you radiate confidence through your enhanced wellbeing and appearance, honoring our commitment to upscale dental care. Let us be a part of your transformative experience, offering comprehensive smile makeovers tailored just for you.
Back to Restorative Dentistry