"Transform Your Smile on Vacation or a Business Trip (Complete in Just 10 Days)"
Are you planning a visit to South Florida, either for a luxurious vacation or an essential business trip? Why not seize the opportunity to enhance your smile and boost your confidence in the process? With Dr. Dmitry Gorbatov at Gorbatov Dentistry, you can experience a comprehensive 'Smile Makeover' that aligns perfectly with your stay at the world-renowned Diplomat Resort Hotel, situated directly across from our office.
Imagine yourself indulging in the opulence of South Florida, relishing the delights of the Diplomat Resort Hotel, fine dining, magnificent beaches, and all the while, taking significant steps to make your dream smile a reality. Dr. Gorbatov, a distinguished dentist with over 30 years of experience in Cosmetic Dentistry, specializes in creating stunning, healthy smiles. Your Dream Smile is just a booking away and can be achieved within the span of your 10-day trip.
Our 'Smile Makeover' is more than just a dental procedure; it's a transformative experience that enhances your overall appearance and wellbeing. Whether you are here for business or pleasure, your trip to South Florida can be a life-changing journey towards the smile you've always wanted.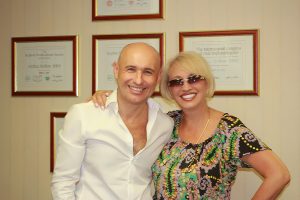 Russian pop-singer Irina Allegrova after a successful smile makeover at Gorbatov Dentistry
Make the most of your time in South Florida by investing in yourself and your appearance. Let Dr. Dmitry Gorbatov at Gorbatov Dentistry create your perfect smile, reflecting the vibrancy and beauty of the region. Contact us today to begin your journey towards a more attractive and healthy smile, all while enjoying the vibrant life and culture of South Florida."
Back to Cosmetic Dentistry