Root Amputation: Preserving Your Natural Tooth
Within the field of contemporary dentistry, the practice of root amputation stands as a testament to the ongoing advancements in dental care. This unique procedure aims to salvage a multi-rooted tooth from extraction, preserving its functionality and natural appearance. Conducted at the world-class dental office of Gorbatov Dentistry, this process demonstrates the value of retaining a healthy natural tooth.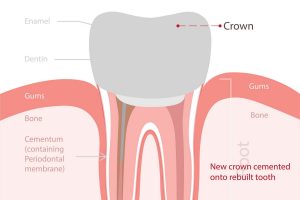 Root Amputation – an expert surgical method to preserve multi-rooted teeth from loss.
The Procedure Explained
Root amputation is a specialized dental technique in which one root of a multi-rooted tooth is surgically removed, with the tooth then being stabilized and restored to its full function through a crown or filling. Most frequently, this procedure is applied to molars, the large flat teeth situated at the back of the mouth, having two or three roots.
The overarching purpose of this procedure is to save a damaged or diseased tooth from extraction, a mission echoing the belief of dental professionals worldwide that preserving a healthy natural tooth is paramount. Root amputation, along with necessary crown work, often proves to be a more budget-friendly and time-efficient alternative to dental implants or extensive bridgework.
When is Root Amputation Required?
It must be emphasized that root amputation is reserved for otherwise healthy teeth. Should the tooth be diseased, significantly fractured, or otherwise compromised, extraction will be the likely course. Ideal candidates for this procedure possess a healthy tooth surface, robust bone support, and well-maintained underlying gums. Circumstances that may necessitate root amputation include:
Broken, fractured, or injured teeth and roots.
Embedded bacteria within the structure of the root.
Severe localized bone loss due to periodontitis.
Concentrated tooth decay.
The Process of Root Amputation
Root amputation demands precision, starting with root canal treatment. The amputation itself entails cutting deep into the tooth to remove blood vessels and nerves. Consequently, the tooth's pulp, along with these vessels and nerves, must be extracted prior to the procedure. Both root canal and amputation treatments will be executed under local anesthetic, ensuring patient comfort.
During this surgical process, a small incision is made in the gum to reveal the roots of the affected tooth. The root is then isolated from the remainder of the tooth and removed. A thorough cleansing with saline solution eradicates any lingering bacteria, and sutures are applied to close the incision.
Lastly, a temporary crown or filling is positioned to secure the tooth. Depending on individual needs, painkillers, antibiotics, or medicated anti-microbial mouthwash may be prescribed. Within 7-10 days, stitches will be removed, and the gum will be healed. Arrangements for the permanent crown or filling can be made thereafter, completing the full restoration.
Your Invitation to Excellence
Root amputation is a clear example of the elevated standards in dental care offered at Gorbatov Dentistry. Located on Ocean Drive, oceanfront in Hollywood, and neighboring Hallandale Beach and Sunny Isles Beach, our office is dedicated to providing top-tier dental services. We welcome you to contact us at our contact page to explore how this procedure can enhance your dental health and help you maintain the natural beauty of your smile. We are committed to treating every patient with the utmost respect and care, gently encouraging you to embrace our distinguished dental services. With Dr. Dmitry Gorbatov, over 30 years of experience in dental care is just a call away.
Back to Endodontic Treatment