Power of the Right Bite
There are six basic principles of occlusion: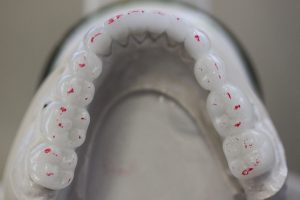 Attaining the correct bite is not merely a process of aligning teeth, but rather a complex approach to ensuring optimal oral health and functionality. At Gorbatov Dentistry, our experienced dental professionals employ comprehensive methods to accurately evaluate and correct occlusal issues, leveraging over 30 years of experience in the field. Here's a glimpse into the principles we follow:
Musculoskeletal Occlusal Signs and Symptoms must be adequately evaluated. Understanding the muscle and joint interaction is essential to ascertain the underlying issues that might be causing discomfort or misalignment. We conduct a thorough examination to provide the best possible treatment approach.
The process starts from the foundation of PHYSIOLOGIC REST and this is a position found without manual manipulation of the patient. This physiologic position is utilized for both diagnosis and treatment. Through cutting-edge EMGS technology, we precisely measure this position, ensuring optimal comfort and functionality.
The unique open and close trajectory of the individual must be considered as a starting point in establishing the bite. Recognizing the individual's specific jaw movement patterns allows for a personalized treatment plan that aligns with the patient's natural mechanics.
Physiologic comfort of the masticatory muscles is critical in creating long term success. At our oceanfront office in Hollywood, we prioritize your comfort, using advanced methods to achieve a relaxed and natural bite that supports the longevity of your dental health.
The Micro-occlusion allows for clean entry into and exit from the centric occlusion. This eliminates noxious proprioceptive stimulus that would otherwise create disharmony and dysfunction. By focusing on the microscopic aspects of occlusion, we ensure a harmonious and fully functional bite.
Parameters of occlusion can and should be OBJECTIVELY measured. As with any treatment, diagnostic and outcome evaluations should be made. Utilizing tools like EMGS and computerized force measuring devices (T-Scan), we confidently adjust the bite to its proper position and maximum functioning force. Our world-class services have extended to patients from various parts of the world, showcasing our commitment to excellence.
Your oral health plays a vital role in your overall well-being. Dr. Dmitry Gorbatov and his professional team are dedicated to providing top-notch dental care that radiates confidence and enhances appearance. With our upscale dental services, you're not just getting a treatment, but a transformative experience. If you're looking to ensure the optimal alignment and health of your teeth, we warmly invite you to schedule an appointment with us today.
Back to Physiologic Based Dentistry