There are six basic principles of occlusion: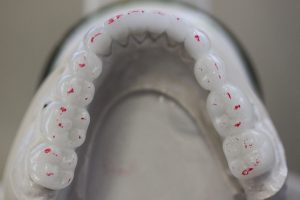 Musculoskeletal Occlusal Signs and Symptoms must be adequately evaluated.
The process starts from the foundation of PHYSIOLOGIC REST and this is a position found without manual manipulation of the patient. This physiologic position is utilized for both diagnosis and treatment. This position is measurable using EMGS.
The unique open and close trajectory of the individual must be considered as a starting point in establishing the bite.
Physiologic comfort of the masticatory muscles is critical in creating long term success.
The Micro-occlusion allows for clean entry into and exit from the centric occlusion. This eliminates noxious proprioceptive stimulus that would otherwise create disharmony and dysfunction.
Parameters of occlusion can and should be OBJECTIVELY measured. As with any treatment, diagnostic and outcome evaluations should be made. Using tools like EMGS and computerized force measuring devices (T-Scan), one can confidently adjust the bite to its proper position and maximum functioning force.
Back to Physiologic Based Dentistry