Endodontic Surgery: Saving Your Tooth with Advanced Techniques
Endodontic surgery is a specialized procedure that allows you to save a tooth that has an abscess around the root tip. While a nonsurgical root canal procedure is usually the first-line treatment, there are cases where surgery becomes necessary. At Gorbatov Dentistry, we offer state-of-the-art endodontic surgery techniques to ensure the preservation of your natural tooth.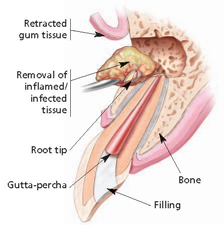 Endodontic surgery becomes necessary when a nonsurgical approach alone cannot effectively treat your tooth. It is used to address issues such as hidden canals or small fractures that were not detected during previous treatment or on x-rays. Additionally, surgery may be needed to remove calcium deposits in root canals, repair damaged root surfaces, or treat the surrounding bone.
Our experienced endodontists utilize advanced technologies, including digital imaging and operating microscopes, to perform surgeries quickly, comfortably, and successfully. These tools allow us to precisely locate and address problem areas, ensuring optimal outcomes for our patients.
Apicoectomy: The Most Common Endodontic Surgical Procedure
One of the most common endodontic surgical procedures is called an apicoectomy, also known as root-end resection. This procedure is typically recommended when inflammation or infection persists in the bone around the end of a tooth, even after a root canal.
In an apicoectomy, our skilled endodontist carefully opens the gum tissue near the tooth to gain access to the underlying bone. Any inflamed or infected tissue is removed, and the very tip of the root is also extracted. To seal the end of the root canal, a small filling is placed. Finally, a few stitches or sutures are applied to aid in the healing process.
Thanks to local anesthetics, the procedure is comfortable, and most patients can return to their normal activities the next day. Any postoperative discomfort is typically mild and can be managed with over-the-counter pain relievers.
If you're experiencing persistent issues with a previously treated tooth or have been advised that endodontic surgery may be necessary, contact Gorbatov Dentistry today to schedule a consultation. Our expert team, led by Dr. Dmitry Gorbatov, is committed to providing world-class care and restoring your dental health with the latest advancements in endodontic surgery.
Make an appointment here to visit our upscale dental office and experience exceptional dental care.
Back to Endodontic Treatment