A dental implant is an artificial tooth root that is placed in the jaw to hold a replacement tooth or bridge. Dental implants may be an option for people who have lost a tooth or teeth due to periodontal disease, trauma, or some other reason.
TYPES OF DENTAL IMPLANTS at Gorbatov Dentistry
A dental implant is a sophisticated solution for tooth replacement, serving as an artificial root that securely holds a prosthetic tooth or bridge. Suitable for individuals who have lost teeth due to periodontal disease, injury, or other causes, dental implants are a key part of modern cosmetic dentistry and dental implantology, a field in which Dr. Dmitry Gorbatov possesses over 30 years of experience.
Endosteal (in the bone): As the most prevalent type of implant, endosteal implants include screws, cylinders, or blades surgically anchored into the jawbone. Each implant supports one or multiple prosthetic teeth, making them a prime alternative for those with bridges or removable dentures.
Subperiosteal (on the bone): These implants, placed on top of the jaw, feature metal posts that extend through the gum to support the prosthesis. Subperiosteal implants are favored for patients who cannot wear traditional dentures or have minimal bone height.
ARE YOU A CANDIDATE FOR DENTAL IMPLANTS?
The ideal dental implant candidate enjoys good general and oral health, possesses sufficient jawbone to sustain the implant, and maintains healthy gums free from periodontal disease. With our office located on Ocean Drive, we invite you to explore this transformative option for enhancing your smile and boosting your confidence. Trust our dedicated team to guide you toward an optimal solution tailored to your needs.
WHAT IS A DENTAL IMPLANT PROCEDURE LIKE?
Embarking on a dental implant procedure with Gorbatov Dentistry is a collaboration between you, your dentist, and your periodontist. With a personalized approach, our professionals devise a unique treatment plan, embracing innovation and quality that resonates with our reputation for excellence.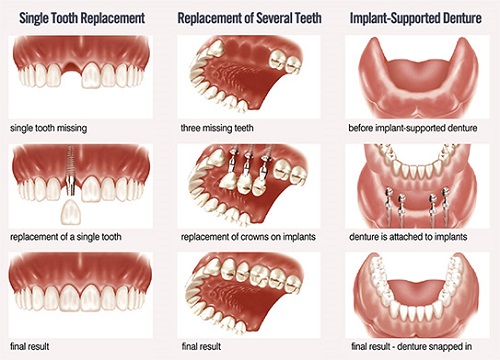 Replacing a Single Tooth: One implant with a crown restores a single tooth.
Replacing Several Teeth: Implant-supported bridges replace multiple teeth.
Replacing All of Your Teeth: An implant-supported bridge or full denture restores all teeth.
Sinus Augmentation: A process that raises the sinus floor and develops bone for implant placement.
Ridge Modification: This correction builds up the jaw ridge to enable successful implant placement.
WHAT CAN I EXPECT AFTER RECEIVING A DENTAL IMPLANT?
Continued oral care is essential for dental implants, requiring attentive at-home hygiene and regular visits to our clinic. Your periodontist and our professional team will establish a diligent care plan to monitor the health of your implant, teeth, and gums. To learn more about our world-class dental implant solutions, please schedule an appointment with us today.
We invite you to explore how dental implants at our oceanfront location in Hollywood can revitalize your smile and enhance your appearance. Allow us to be part of your journey toward dental wellness and confidence.
Back to Dental Implants