T-Scan Occlusal Analysis: Precision and Excellence at the Dental Office of Dr. Gorbatov
In the world-class dental care provided at Dr. Gorbatov's oceanfront office in Hollywood, FL, technology takes center stage. The T-Scan is a remarkable tool utilized by Dr. Gorbatov that offers both force measurement and diagnostic capabilities.
This state-of-the-art tool records bite force, allowing Dr. Gorbatov to do so with unparalleled accuracy compared to traditional manual methods. It is leveraged in various ways, providing a multitude of benefits to patients.
Comprehensive Uses for T-Scan in Dentistry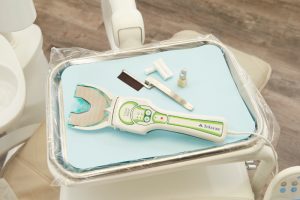 The T-Scan serves a diverse array of applications, from fundamental dental procedures to specialized treatments in periodontal care, orthodontics, TMJ disorder treatment, implant dentistry, and more. It's an essential tool for pinpointing the sources of tooth pain, crafting customized dental appliances in removable prosthetic dentistry, and creating a comfortable and well-aligned bite.
Equipped with patient-friendly software that features 3D and 2D images, the T-Scan facilitates both dentist and laboratory work while also enhancing patient education. This leading-edge technology eliminates guesswork, promotes precise adjustments, and ensures a more comfortable dental experience. By recording timing and force, it bridges the gap where traditional articulating paper marks may fall short.
Through bite analysis and pressure measurement, the T-Scan provides invaluable insights. A single bite on an ultra-thin sensor furnishes all the essential data, paving the way for targeted and efficient treatment.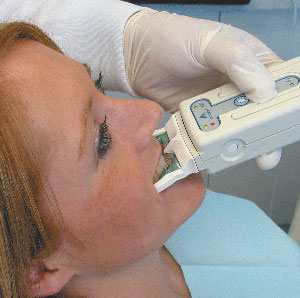 Choosing a dental provider who leverages contemporary technology is vital for receiving top-tier care. Dentists in Hollywood, FL, such as Dr. Dmitry Gorbatov, DDS, Ph.S., adopt the most advanced technological solutions to enhance patient outcomes through minimally invasive procedures. Today's dental diagnostics tools, such as the T-Scan, open doors to a wealth of benefits and a superior dental appointment experience.
With over 30 years of experience, Dr. Gorbatov extends his expertise across general and preventive dentistry, cosmetic reconstructions, neuromuscular, and restorative areas, integrating technology like the T-Scan. If you seek excellence in dental care, we cordially invite you to schedule an appointment at our upscale dental office, neighboring Hallandale Beach and Sunny Isles Beach. Experience a new level of precision and care with the T-Scan at Gorbatov Dentistry.
Back to Technology