Full Porcelain Crowns and Bridges: A Comprehensive Guide to Restorative Dentistry
Embrace the elegance of full porcelain crowns and bridges - a bio-compatible solution that not only replaces missing or damaged teeth but offers a permanent, aesthetically appealing restoration that lasts.
Understanding Dental Crowns and Tooth Bridges
At Dr. Gorbatov's office on Ocean Drive, world-class dental solutions are offered, including both crowns and bridges. Unlike removable prosthetics such as dentures, crowns and bridges are cemented onto existing teeth or implants, offering a lasting and functional solution.
The Functionality of Porcelain Crowns
A crown, meticulously crafted by your dentist, can entirely cover or "cap" a damaged tooth. Its applications extend beyond strengthening; a crown can elevate the appearance, shape, or alignment of a tooth. A ceramic crown, which can be color-matched to your natural teeth, is a prime example.
Dr. Dmitry Gorbatov may recommend a crown to:
Replace extensive fillings when limited tooth structure remains
Fortify a weak tooth and prevent it from fracturing
Revitalize a fractured tooth
Anchor a bridge securely
Enhance a dental implant
Correct a discolored or poorly shaped tooth
Shield a tooth that has undergone root canal treatment
Dental Bridges: Bridging the Gap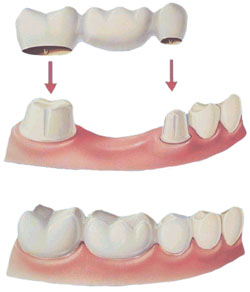 If missing teeth have left gaps in your smile, bridges may be the solution. Gorbatov Dentistry employs this technique to prevent remaining teeth from shifting into empty spaces, which can cause bite problems and even TMJ disorders.
Bridges span the space where teeth are missing and are cemented to natural teeth or implants. These anchors, known as abutments, hold the replacement tooth, called a pontic, in place. With material choices including porcelain or ceramic, the bridge can be matched to the natural color of your teeth.
Crafting Porcelain Crowns and Bridges
The process of creating crowns and bridges involves reducing the tooth size for a proper fit. Once prepared, an impression is taken to create an exact mold. Your dentist will select the appropriate shade if porcelain is used, ensuring a seamless match.
A dental lab crafts the crown or bridge based on the provided impression, and a temporary cover is placed while awaiting the permanent structure. When ready, the temporary piece is removed, and the permanent crown or bridge is expertly cemented by Dr. Gorbatov.
Longevity of Porcelain Crowns and Bridges
While crowns and bridges can be lifetime restorations, they require care. Good oral hygiene practices such as brushing with fluoride toothpaste and flossing daily will ensure longevity. Regular checkups and professional cleanings at Gorbatov Dentistry will also play a crucial role.
Avoiding hard foods and objects that might damage your restoration is also essential. Trust in the expert care and top-notch services of our dental office on Ocean Drive, oceanfront in Hollywood, to guide you through this process with the utmost professionalism and care. Your smile deserves nothing but the best.
Back to Restorative Dentistry