Unlock a Brighter Future with Gorbatov Dentistry
Perfection in the form of a smile is a complex journey that involves the expertise of an accomplished dental artist. This is where the renowned Gorbatov Dentistry in Hollywood, FL, comes into play. With over three decades of unparalleled experience in Cosmetic Dentistry, Dr. Dmitry Gorbatov, DDS, Ph.S., infuses his mastery and passion for oral aesthetics into the creation of each individual's ideal smile using high-quality veneers, located at our upscale dental office on Ocean Drive, oceanfront in Hollywood, closely neighboring Hallandale Beach and Sunny Isles Beach.
What Sets Us Apart?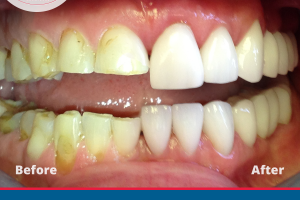 Customized Care: Every patient is unique, and so are their dental needs. We provide tailored solutions, designed to achieve the best possible results.
Advanced Technology: Utilizing the latest advancements in dental technology, we ensure that every veneer is a masterpiece that fits perfectly and looks natural.
World-class Experience: Our patients come from various parts of the globe, including Russia, Ukraine, Kazakhstan, England, Spain, Italy, Germany, and France, all seeking the unrivaled quality that Gorbatov Dentistry offers.
Unwavering Commitment: Your satisfaction is our priority. From consultation to aftercare, our professional team ensures a seamless and satisfying experience.
Are Veneers the Right Option for You?
Understanding whether veneers are the best choice for your dental needs is essential. During your initial consultation with Dr. Gorbatov, he will evaluate your oral health, discuss your aesthetic goals, and help you make an informed decision. Veneers are a versatile solution, suitable for:
Enhancing tooth color
Closing gaps between teeth
Correcting alignment and unevenness
Repairing chips and wear
Trust Your Smile to the Expert
Investing in veneers is an investment in yourself. It's about enhancing your appearance, boosting your confidence, and opening doors to new opportunities. Choosing Gorbatov Dentistry means entrusting your smile to a seasoned professional who cherishes and cares deeply for every patient, helping them radiate confidence through their enhanced wellbeing and appearance.
Take the Leap to a Radiant Smile Today
Don't let anything hold you back from the smile you deserve. Visit our prestigious dental office in Hollywood, FL, and begin the transformation with Dr. Gorbatov. Your journey to a perfect smile is just a click away. Schedule your consultation with Dr. Gorbatov today and unlock the best version of your smile.
Back to Cosmetic Dentistry