Experience cutting-edge diagnostic precision with our Galileos 3D X-Ray System. Elevate your dental care to unparalleled heights by taking advantage of this state-of-the-art technology at Dr. Dmitry Gorbatov's office.
D0367. Not valid with other offers or prior services. *New Patient Offer
Galileos 3D X-Ray System at Gorbatov Dentistry
Experience Precision with Lowest Patient Dose!
The Galileos 3D X-Ray System installed at our oceanfront office in Hollywood is redefining dental imaging. It offers an unparalleled combination of the lowest radiation dose in the industry and exceptional image clarity. With cutting-edge technology, the GALILEOS system not only enhances the diagnosis but also elevates the overall patient experience.
Here at Dr. Dmitry Gorbatov's practice, the safety and comfort of our patients are our utmost priority. We understand that accurate diagnostics form the foundation of successful treatment. Therefore, we utilize the GALILEOS system, renowned for its precise images and minimized exposure to radiation. *The effective dose according to ICRP 2007, Ludlow
Our team, led by the highly experienced Dr. Gorbatov, is dedicated to embracing innovative dental solutions that align with our commitment to providing world-class services. This modern imaging system facilitates an optimized clinical workflow, offering efficiency and reliability in both general dentistry and specialized 3D diagnostics.
If you seek premium dental care that respects your wellbeing and radiates excellence, you're invited to experience the revolutionary GALILEOS 3D X-RAY SYSTEM at our clinic. To discover how we can transform your smile with advanced technology, please schedule an appointment with us today.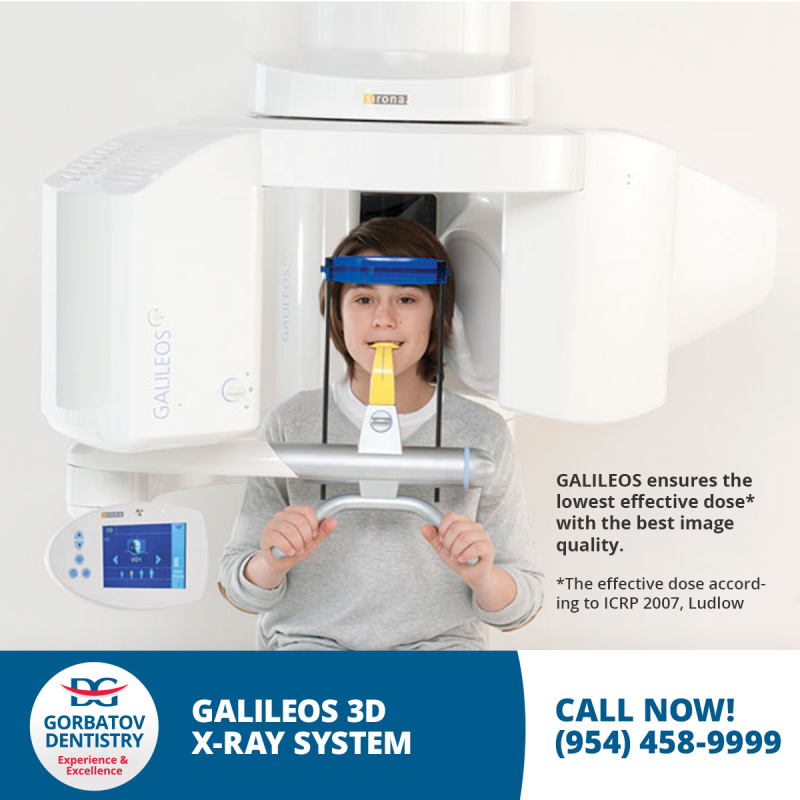 Addressing dental concerns with precision and care, our clinic on Ocean Drive ensures that every patient leaves with a confident and healthy smile. Trust in our expertise, and let us guide you to a future of dental wellness.
Valid until December 31, 2023