Turn back the hands of time.
Many people wonder how to get rid of hand wrinkles. Now you can improve the appearance of your aging hands with RADIESSE® — the only dermal filler proven to immediately restore volume loss in the back of hands for smooth, natural-looking results that won't give away your age.1
RADIESSE is the first and only filler deemed safe and effective by the FDA to correct lost volume in hands.
RADIESSE® CAN ENHANCE THE APPEARANCE OF HANDS BY:
---
What do your hands say about you?
Let your hands tell a more timeless story.
Immediate results that last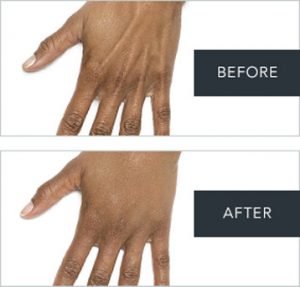 The unique RADIESSE formula provides lift in the areas below deep wrinkles and folds, diminishing their appearance for a more refreshed look.1,3,4
The hand and facial filler works to add volume under the skin, and over time, the benefits of RADIESSE continue by stimulating your body's own natural collagen.
Helps restore a more youthful appearance to hands
Quick, in-office treatment
Reduces the appearance of tendons and veins7
Delivers smooth, natural-looking results that last up to a year in most patients6
References:
1Berlin AL, Hussain M, Goldberg DJ. Calcium hydroxylapatite filler for facial rejuvenation: a histologic and immunohistochemical analysis. Dermatol Surg. 2008;34(suppl 1):S64-S67.
2Moers-Carpi M, Vogt S, Santos BM, Planas J, Vallve SR, Howell DJ. A multicenter, randomized trial comparing calcium hydroxylapatite to two hyaluronic acids for treatment of nasolabial folds. Dermatol Surg. 2007;33(suppl 2):S144-S151.
3Bass LS, Smith S, Busso M, McClaren M. Calcium hydroxylapatite (Radiesse) for treatment of nasolabial folds: long-term safety and efficacy results. Aesthet Surg J. 2010;30(2):235-238.
4Moers-Carpi MM, Tufet JO. Calcium hydroxylapatite versus nonanimal stabilized hyaluronic acid for the correction of nasolabial folds: a 12-month, multicenter, prospective, randomized, controlled, split-face trial. Dermatol Surg. 2008;34(2):210-215.
6RADIESSE [instructions for use for the dorsum of the hand]. Franksville, WI: Merz North America, Inc.; 2015.
7RADIESSE for Hands [patient information guide]. Franksville, WI: Merz North America; 2016.
Back to Facial and Hand Rejuvenation